Four lessons on video commerce and video shopping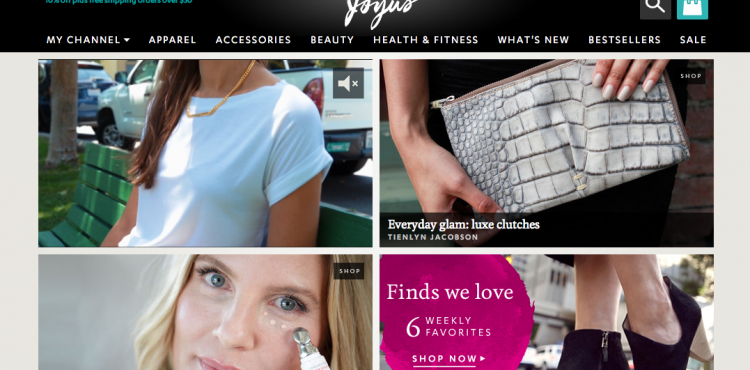 At the IRCE 2014 eCommerce trade show in Chicago, Sukhinder Singh Cassidy, chairman and founder of Joyus.com, talked about her newest love: video commerce and video shopping. Not only is it her newest love, it's the driving force behind her new company, Joyus.com, which uses video from the top of the sales funnel all the way through conversion and retention.
As the content and commerce convergence came into light, Cassidy recognized that the stage had been set for her to launch her video-focused eCommerce site, Joyus.com. On the site, products are devoted primarily to women's fashion, beauty and healthy living, and videos are given prime real estate. Where shoppers would typically expect to find a few product shots, short videos are featured instead.
"The online shopping website makes short videos with experts talking about highly curated lifestyle products in beauty, fashion and fitness, such as 'The Secret Weapon for Fabulous Hair,' and sells them to a core demographic of urban, 30- to 45-year-old women," said the editors at BizJournals.com. The editors went on to explain that, at the time of publication, the startup was working with nearly 600 brands and was offering more than 2,500 products. In 2012, the company shipped 40,000-plus products and boasted millions of page views.
By allowing product discovery through video, Joyus.com customers get an entirely different experience. And one that Cassidy says is timed just right. Currently, 78 percent of consumers watch at least one video per week. And many are doing it on their mobile devices while they wait for their commuter trains or kill time before a meeting. About 50 percent of mobile traffic comes in the form of video, she explained.
For online retailers who see the value in video, there's still a lot to learn in terms of making video commerce effective. In that regard, Cassidy passed on four lessons she learned while growing the Joyus.com business.
Lesson No. 1: Find the hero product
As Joyus.com came into maturity, Cassidy discovered that there are some products worthy of selling through video while others weren't as relevant. The characteristics that she sees in what she calls a hero product include those with that are problem/solution oriented, those that have a discovery aspect to them, and those that are versatile and unique.
When a product can solve a problem, it has instant value. The same is true for versatile items. Furthermore, when a shopper can discover a new product or brand, the experience is that much better. People have asked Cassidy why the brands on Joyus.com aren't recognizable, and beyond the mission to educate consumers on new products, her response also stressed the downside that comes from promoting products to consumers who will just end up buying them from Amazon.
Lesson No. 2: Learn to story sell
When Cassidy thinks about selling online through video, she immediately gravitates to story telling. While you can tell a great brand story, her focus is telling the product's story. By using product experts to tell that story, Joyus.com is able to establish credibility, trust and affinity again and again.
But at Joyous, they don't think just about affinity. They want the experience to be similar to one at a beauty counter, where shoppers are more than pleased to come back and find the same helpful salesperson as the last time they purchased a beauty product. Interacting with a salesperson who continually offers a great experience creates brand trust. The key for building trust through video is finding that expert within your company. It may be a personal shopper or it may be your CEO, says Cassidy, but it has to be a product expert who is also entertaining to watch.
But they don't have to be camera ready necessarily. The level of authenticity on the Internet today is exemplified with YouTube where people are making their own videos. This is the type of experience that shoppers are looking for – being sold to by real people that consumers can relate with.
Cassidy went on to say that effective videos on Joyus.com feature one to four products, focusing on the best product first. For the chosen hero product, three unique selling points are delivered in videos lasting between 30 seconds and three minutes.
Lesson #3: Effectively measure ROI
Cassidy and the team at Joyus.com carefully measure the ROI of their videos through direct RPV (revenue per view), direct VVCR (video view conversion rate) as well as through additional revenue lift on traffic. The company's completion rate on video is anywhere between 30 and 60 percent with 55 percent of Joyus.com users watching regardless of the featured product or host. Once the commitment is made, Cassidy says shoppers will watch all the way through.
Lesson #4: Capture maximum ROI via aggressive distribution
Whether traffic is garnered organically or through native advertising and video ads, the goal is to reach as many people as possible. Cassidy said that while a video might have the best RPV ever, a company can't be successful if only two people watched it.
As Joyus.com continues to explore new avenues for video commerce, such as through a video marketplace as well as immersive experiences for new platforms, the company continues to focus on: what's special, selling with stories, measuring ROI and thinking aggressively about how to push content.
To learn more about businesses that are changing the way consumers shop online, stay tuned to the NetSphere Strategies blog.
Trackback URL for this blog entry.