Highlights from Boston's Inbound 2013 keynote speaker: Dharmesh Shah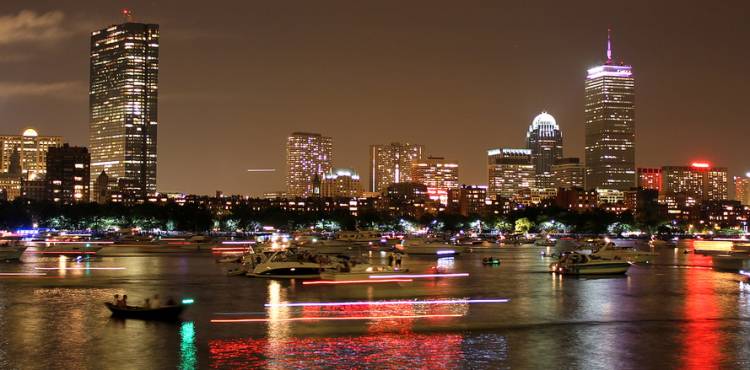 On August 20, 2013, Dharmesh Shah, co-founder of HubSpot, the world's leading inbound marketing software company, delivered an inspiring keynote presentation at Inbound 2013 in Boston. During his speech, Shah discussed the behavioral shifts that are taking place in our society – and the way that companies go to market.
Once upon a time
, Shah said, folks answered rotary phones when they rang, despite the fact that without caller ID, they didn't even know who was calling them. They were also relegated to only a few channels on TV because a few channels were all that existed. And, if that weren't enough, they had to deal with slower-than-molasses Internet speeds with no Google. Oh, the humanity!
Today
, however, we're in touch, in charge and with more choices than we've ever had before. Well, most of us, that is. Unfortunately, there are many companies that are frozen in time – without a web presence to speak of or, worse than that, without the forward-thinking mentality to connect with the world in a positive way.
Sometime between then and now, however, inbound marketing made its way into the world and with it came a better way to create value for customers. And that new marketing mentality has proven itself to be more efficient and with a better ROI.
But almost in that same breath, Shah revealed a revelation that he had had about the next big shift in marketing. Inbound marketing is not the answer, he said. Upon uttering this revelation, 5,300 jaws hit the floor, and rightfully so. His audience was, after all, marketers from around the nation all assembled in Boston to learn more about the future of inbound.
Taking advantage of the power of suspense, Shah paused for dramatic effect and then amended his statement by saying that inbound marketing is not the "complete" answer. The complete answer then – for Shah and everyone who wants to get on board – is creating inbound experiences.
"The inbound experience is the end-to-end, human-focused experience," he explained. "It's about every touch point with the customer and making the entire experience awesome."
It's also about customer delightion, he said – a totally made-up word that Shah unveiled during his speech. Despite the chuckles, the fabricated word resonated with attendees. It is, in fact, the heart and soul of inbound marketing. It's all about giving customers exactly what they need and when they need it – a stark contrast to the way it used to take place.
Once upon a time
, the phrase buyer beware was a prevalent warning. People were basically helpless when it came to buying a new product or service. They would have to contact a company's salesperson because they were the only ones with the product information. If the product didn't meet expectations, there wasn't a lot of recourse available.
Today
, however, people have been empowered. They can find the product information they need online, and if the product or service underperforms, there are many avenues to take. Therefore, according to Shah, the disclaimer should now be 'seller beware.' If the product misses the mark, individuals can take to social channels to share their experiences. "The tweet is mightier than the sword," proclaimed Shah.
Regardless of what has happened in the past, Shah and his company, HubSpot, are striving toward a better future for customers and marketers alike. Proof that his philosophies are working was seen on the faces of attendees as the keynote address concluded – totally delightion.
Trackback URL for this blog entry.