What is IBM's Watson?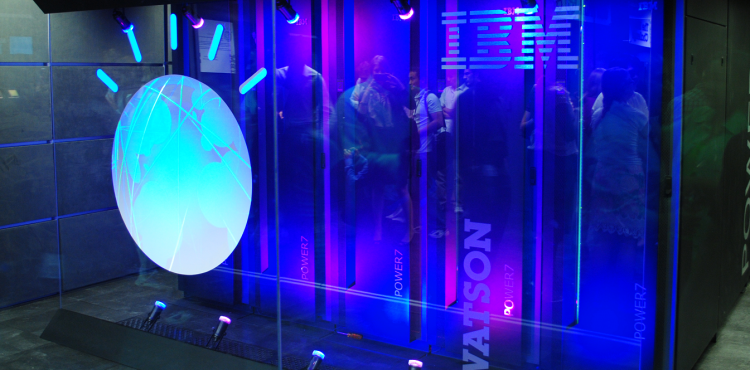 For all of you Jeopardy junkies out there – you know who you are: The title of this blog could be an answer for a Jeopardy clue something along the lines of: "The future of customer engagement depends on this super computer." And although
Ken Jennings
and
Brad Rutter
probably could have answered correctly, the majority of Americans might not know what IBM's question-answering computer has been up to since beating the two out on the game show's ultimate tournament of champions.
Since that fateful Jeopardy episode, Watson has developed a new role for its artificial life. Designed specifically to answer questions on Jeopardy, the computer has now branched into fielding other queries – those from retail customers and medical professionals to be precise.
"Nearly three years after its triumph on the television quiz show Jeopardy!, IBM has advanced Watson from a game playing innovation into a commercial technology," explained the editors of a recent
IBM press release
. "Now delivered from the cloud and able to power new consumer and enterprise apps, Watson is 24 times faster, smarter with a 2,400 percent improvement in performance, and 90 percent smaller – IBM has shrunk Watson from the size of a master bedroom to three stacked pizza boxes."
The new and improved Watson, which uses natural language processes and analytics to form answers, digests information in a manner similar to how people think. This method makes Watson the perfect candidate as an assistant for healthcare professionals when making oncology diagnoses and as a customer service representative to improve engagement for calls that go unresolved.
"IBM Watson represents a bold new step into a new era of computing and has the potential to transform the way people and companies interact over the lifetime of their relationships,
"
IBM editors reported
. "Individual consumers can interact with Watson in plain English, directly or through an agent, to get personalized responses to questions and receive actionable insight with supporting evidence and confidence to help create the experiences customers expect. As just one of many examples, a bank might offer Watson directly to customers to help understand the types of savings accounts and facilitate the opening of the account that meets their requirements."
With IBM's faster, smarter, smaller Watson, the future of customer engagement is bright. In fact, Watson is just a more powerful version of several similar apps that are coming into the marketplace today. Known as CaaS or cognition as a service, retailers and consumers alike are ready for more apps like Siri to virtually answer any questions that come to mind.
"Apple's Siri is one of the most famous cognition-based services in general use today," said Dudu Noy, chief marketing officer at Ginger Software, in a blog he wrote for
TheBridge.jp
. "And now Google's recent innovations to its search product for mobile, incorporating more contextual conversation for queries, pits it against Siri in the cognition-augmented search arena. In both cases, the technology itself is in the cloud, even though the device is in the user's hand."
As customer expectations and retail competition increase, the companies that place themselves ahead of the technology curve will also see increases – in their customer base as well as in their revenue. And leveraging CaaS is certainly one way to achieve those technology goals. The time to adopt these new technologies, however, is now. According to an article on
CNN.com
, Watson-related business are growing at such a rapid pace that IBM revised its 2015 goal of revenue from "business analytics" from $16 billion to $20 billion.
To stay in the know with the ever-changing eCommerce, retail and technology landscapes, subscribe to the NetSphere Strategies blog
.
Trackback URL for this blog entry.