What to do in Chicago – Part deux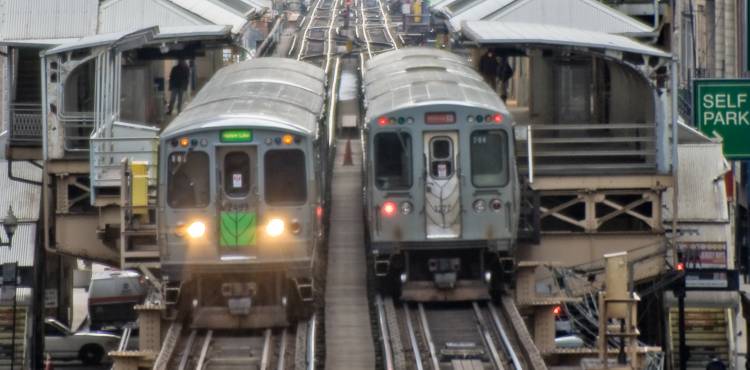 To get an elevated look at Chicago's downtown Loop neighborhood, take a ride on the "L," which gets its name from the word "elevated." The second-story Brown Line ride takes you, believe it or not, on a looped tour of the city with one stretch spanning over the Chicago River, creating the perfect view of iconic skyscrapers like the Wrigley Building and the Tribune Tower.
Details: You can get on at one of many
Brown Line
stations downtown. But if you don't want to take the "L" too far north, be sure to get off at the Chicago station.
2. Visit the Cultural Center
The Art Institute is one of the best art museums on the planet – and that's not just a biased opinion. However, many frequent visitors to Chicago have already been through it and know that it takes a couple hours to really take it in (especially with its new, amazing modern wing). For those with less time or money to spare, the Cultural Center across the street is a great option. As one of Chicago's early libraries, the architecture is absolutely beautiful.
Details: To tour the Cultural Center, just head to 78 E. Washington Ave., found right at the corner of Washington and Michigan Avenues. And don't worry about paying a dime. It's free, has a lovely overlooking view of Millennium Park and usually has a few art exhibits inside to boot.
3. Listen to the Chicago blues at B.L.U.E.S. and the Kingston Mines
It would be a crime to leave Chicago without taking in some of the best blues that the nation has to offer. Choosing where to take it in, however, can sometimes be quite the task. But don't fret; just go to Lincoln Park where two of Chicago's best venues reside across the street from one another.
Details:
Kingston Mines
and
B.L.U.E.S
. have hosted some of history's most famous blues acts and just so happen to be located in one of Chicago's most posh neighborhoods. They're open every night until the wee hours of the morning, so no matter how packed your schedule seems to be, they make it easy to squeeze in an hour or two of music.
4. Eat fare prepared by Chicago's celebrity chefs
Chicago is by no means short on star-studding dining. The city's very own Grant Achatz is known as the leader in molecular gastronomy and his restaurant Alinea has been named best in the world by various publications. As if Achatz weren't enough, we also have
Rick Bayless
,
Stephanie Izard
,
Graham Elliot
and Charlie Trotter, just to name a few.
Details: Last-minute reservations for any of Chicago's celebrity chef restaurants don't come easy. But, other than Charlie Trotter who recently retired, each chef has a quick-service version.
Izard's
Little Goat
is across the street from her flagship location. Rick Bayless'
Frontera Fresca
can be found on the 7
th
floor of the Macy's on State Street.
Grahamiches
can be gobbled down on State Street, as well, just a few blocks north. For those who can't squeeze any of these in while they're still in Chicago; don't fret. Rick Bayless has
another
location in O'Hare's Terminal 5.
5. Go green at the Garfield Park Conservatory
Chicago's historic park boulevard system winds an impressive green path all throughout the city. Each park is connected by boulevards that are lined with some of the city's most beautiful old homes. And although many of the parks also boast some of the city's best architecture, Garfield Park is one of the best to visit, thanks to its greenhouse and conservatory.
Details: As with so many of Chicago's attractions, the
Garfield Park Conservatory
is one of the largest and best of its kind in the nation. Sitting on 4.5 acres of land, it houses thousands of plants from around the globe, including ferns that are more than 300 years old. The best way to get there is by taking the Green Line.
If you have any questions about our list, visit us at booth #1549 through June 6 at the IRCE 2013. To learn more about NetSphere Strategies, head to our website. But no matter what, have fun while you're here in our hometown city!
Trackback URL for this blog entry.