Thursday, 03 April 2014 17:39
NetSphere Strategies' core competencies lie in the eCommerce realm. From services to solutions to support, our team helps our clients map out the route to success and build the roads to take them there.
To learn more, download the brochure below.  
Monday, 10 March 2014 08:49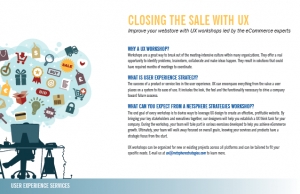 Improve your webstore with UX workshops led by the eCommerce experts. By bringing your key stakeholders and executives together, our designers will help you devise ways to leverage UX in ways that will reap your company increased profits.